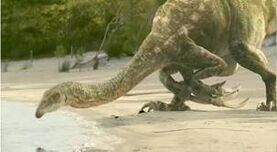 From New Guinea, the Kaiaimunu is a lesser known cryptid. While sightings were numerous by natives to the region, there are (relatively) few sightings by modern man.
Appearance & Description
Edit
The Kaiaimunu is extremely tall with two legs, and arms with giant claws. This description is very similar to the dinosaur Therizinosaurus (see image above).
Theories/Explanations
Edit
Aside from the omnipresent hoax idea, the Kaiaimunu is thought to be a living Therizinosaurus.
Ad blocker interference detected!
Wikia is a free-to-use site that makes money from advertising. We have a modified experience for viewers using ad blockers

Wikia is not accessible if you've made further modifications. Remove the custom ad blocker rule(s) and the page will load as expected.