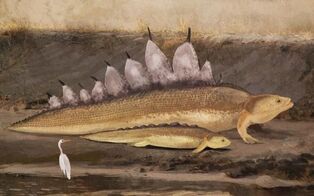 A semi-rarely reported cryptid, the Mbielu-mbielu-mbielu is a creature from the Likoula Swamp region of the Democratic Republic of the Congo. The name means "the animal with planks growing out of its back".
Appearance & Description
Edit
The Mbielu-mbielu-mbielu is an aquatic cryptid. All that has ever been seen is the top of its hump-like back, so not much about its description is known. However, it is known that the creature has rows of plate-like protrusions sticking out of its back, resulting in the name. These spines are often reported as covered in algae.
Theories/Explanations
Edit
Because not much is known about the appearance of the Mbielu-mbielu-mbielu, it is hard to identify what it is. Because of the "plank" description, some cryptozoologists suggest that it is a form of aquatic stegosaur. Others suggest a form of snake, a primitive fish, or a type of aquatic lizard.
Ad blocker interference detected!
Wikia is a free-to-use site that makes money from advertising. We have a modified experience for viewers using ad blockers

Wikia is not accessible if you've made further modifications. Remove the custom ad blocker rule(s) and the page will load as expected.