Sarmatian Sea Snail


Statistics
Description
Strange snail
First Sighting
16th century
Last Sighting
16th century
Country
Baltic Sea
Habitat
Coasts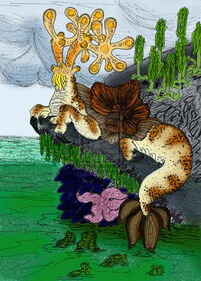 A strange creature, one not seen since the 1500s, the Sarmatian Sea Snail is found in Europe's Baltic Sea.
Appearance & Description
Edit
The Sarmatian Sea Snail was reportedly large, with a whorled shell and a tail. While all gastropods have a "stomach foot", this cryptid reportedly had "paws". The most noticeable feature was the large, deer-like antlers bore upon its head. At the end of each antler branch was a small, spherical bulb, resembling pearls. While other gastropod's eyes sit upon optical stalks, this snail's eyes sat laterally upon its head. Even more oddly about their eyes, was the fact that they "glew like candles". The Sarmatian Sea Snail was also an amphibious creature. (An interesting note: while both images shown fit the description, the 1st shows a more likely creature)
Theories/Explanations
Edit
The Sarmatian Sea Snail is thought to be a (now extinct) new species of sea snail.
Ad blocker interference detected!
Wikia is a free-to-use site that makes money from advertising. We have a modified experience for viewers using ad blockers

Wikia is not accessible if you've made further modifications. Remove the custom ad blocker rule(s) and the page will load as expected.