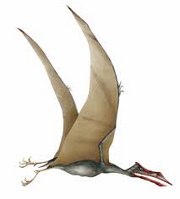 For at least 50 years, surviving pterosaurs have been seen throughout Texas. Many times, these "Winged Dragons" go by other names, such as Big Bird.
Appearance & Descriptions
Edit
Winged Dragons, as they are called, are extremely large creatures. When they stand on 4 limbs (using the hands on their wings as legs), they are taller than a man. They have long tails and long, narrow beaks
Theories/Explanations
Edit
The Winged Dragons are thought by most researchers to be surviving pterosaurs, such as Quetzocoatlus. More conservative researchers think they are unknown bats.